eLearning
Computers and electronic communications are a vital component of most courses at Brookes and can be accessed as soon as you receive your student card.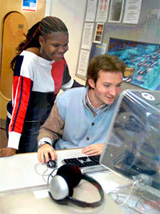 We make good use of technology to assist teaching and learning. Our students use innovative systems such as our personal information portal for tasks such as choosing study modules and checking their grades.
We have developed an integrated e-learning network, Brookes Virtual Learning Environment in order to give greater flexibility over when, where and how you study. With its powerful online communication and resource-sharing tools, Brookes Virtual can enable you to:
Hone your research methods and develop complex arguments in asynchronous online discussion with your tutor and peers
Access specialist online journals, datasets and bibliographies, assessment quizzes and self-tests
View lecture material and support documentation.